In August 2016, Uzbek athlete Oksana Chusovitina made history at the Olympic Summer Games in Rio de Janeiro. Not only was the then-41-year-old the oldest female gymnast to compete at the Olympics, but she was also among the oldest-ever Olympic athletes in any sport and was competing at the Games for an unprecedented seventh consecutive time. So it hardly seems like an exaggeration to refer to Chusovitina, as many media stories did at the time, as a "living legend."
Here are 10 things you need to know about the life and career of this incredible athlete:
Her career spans more than a quarter-century…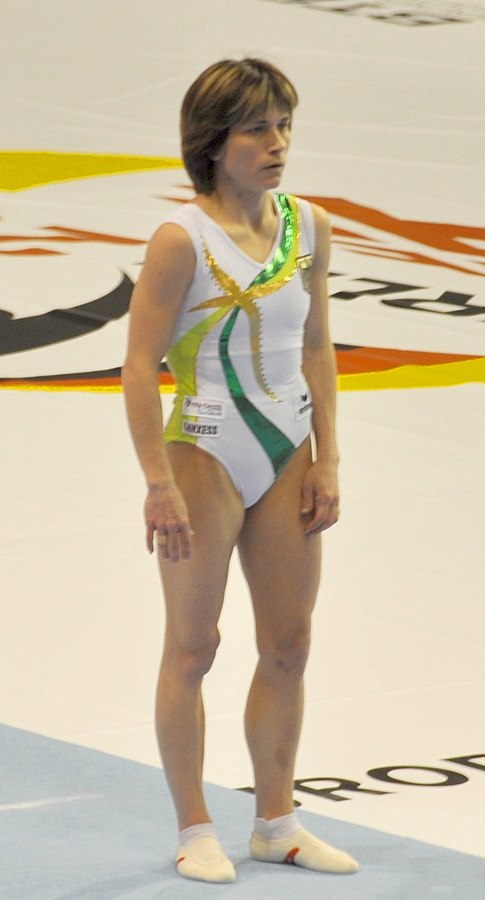 Oksana Chusovitina made her gymnastics debut at the USSR's junior national championships in 1988, when she was just 13 years old (she won the all-around at this event). She began competing internationally shortly thereafter: She won three medals, including gold for the floor event, at her first world championships in 1991, and she made her Olympic debut at the Summer Games in Barcelona in 1992.
…although she feared it might be over shortly after it began.
The fall of the USSR in 1991 meant big changes for Soviet athletes. Chusovitina, like many of her peers, was concerned that this would spell the end of her career; at the time, her newly-independent home country of Uzbekistan had few resources to spare for developing elite gymnasts. However, a reprieve came in the form of a specially assembled Unified Team, made up of athletes from former Soviet Nations, which was created for the Barcelona Summer Games in 1992. As a member of this team, Chusovitina won an Olympic gold medal.
She has won medals in most major international events.
In addition to her Olympic medals—the 1992 gold mentioned above and a silver for the vault, which she won at the Beijing Summer Games in 2008 at the age of 33—Chusovitina has earned medals at the European, Asian, and world championships.
In Rio, she was about twice the age of most of her competitors.
In the physically demanding world of elite gymnastics, most athletes don't last long. Retirements in the early to mid-20s are common, which makes Chusovitina's nearly-30-year career all the more astonishing. For context, the oldest member of the US Olympic gymnastics team in Rio, captain Aly Raisman, was then just 22 years old, and was already considered a somewhat "senior" athlete.
She invented four different gymnastics moves.
Chusovitina is credited with the invention of four different skills across three events: for the uneven bars, she invented the hop full and full-out dismounts; for the vault, she invented the front handspring piked front full; and for the floor event, she invented the full-twisting double layout. These last two moves are especially difficult.
Her former teammate is now her coach.
Svetlana Boguinskaia and Chusovitina were teammates on the 1992 Unified Team in Barcelona. Boguinskaia is two years older than Chusovitina and retired in 1996 after her third Olympic appearance (at the time, Boguinskaia was known for having a notably long career herself). Today, Boguinskaia is an assistant coach and translator for Chusovitina.
At this point in her career, she relies on muscle memory.
One of the reasons Chusovitina has managed to keep competing at such a high level for so long is that she has altered her training routine as she has gotten older to avoid putting unnecessary pressure on her body. Today, as she has described in interviews, she relies a great deal on muscle memory: after all, she has been performing some of these moves for more than a quarter-century. When compared with other competitors, Chusovitina now spends significantly less time in the gym, designating just two and a half hours for physical practice and spending more time on mental training and visualizing skills.
She's a mother.
In addition to the length of her career, Chusovitina is also remarkable for having returned to the sport after giving birth: something few elite gymnasts do. Her son, Alisher, was born in November 1999; less than a year later, Chusovitina was competing at the Sydney Summer Games.
She has competed for a number of different nations.
Chusovitina began her career as a Soviet gymnast, competing for the USSR. Later, following her young son's leukemia diagnosis, she moved to Germany for his treatment. While there, she trained with the German national team, received German citizenship in 2006, and competed for Germany at the London and Beijing Olympics. Since 2013, however, Chusovitina has been competing once again for her home country of Uzbekistan.
She is an important figure in Uzbekistan.
Not surprisingly, Oksana Chusovitina is a beloved legend in her native Uzbekistan. She has earned the title of "Honored Athlete of the Republic of Uzbekistan," and in 2001, the nation created a postage stamp to commemorate her achievements.